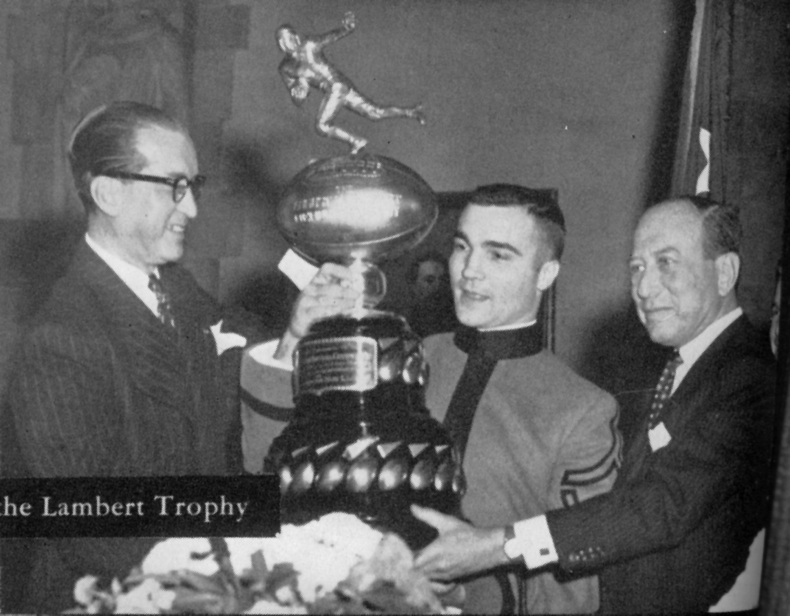 Army players hoisting the Lambert Trophy back in the day. This could have been us.
ECAC® Lambert Meadowlands Bowl Subdivision Football Poll
presented by FieldTurf ... as of Nov. 15, 2010:

Record Points

1. Temple 8-2 184

2. Syracuse 7-3 168

3. Penn State 6-4 158

3. Navy 7-3 158

5. Pittsburgh 5-4 156

6. West Virginia 6-3 120

7. Connecticut 5-4 78

8. South Florida 6-3 72

9. Army 6-4 56

10. Louisville 5-5 40

ARV: Rutgers, Boston College.
Well, this was nice while it lasted.
On Monday, for the first time I can remember, Temple was voted
No. 1 in the Lambert Trophy balloting emblematic of football supremacy in the East
.
Syracuse was No. 2.
Penn State was No. 3.
Pitt was No. 4.
West Virginia was No. 5.
And so on ...
I don't care how bogus you might think the poll is, it is something.
This used to be a much bigger deal than it is today because there were only eight bowls throughout most of the 50s and 60s.
Yet, I still think it's a big deal because Temple being No. 1 shows how far the program has come in terms of perception.
No. 1.
It lasted exactly one day. Maybe it would have lasted longer had the Owls not played and coached so poorly Tuesday night.
Maybe it could have lasted longer if they didn't inexplicably line up with five guys in the backfield on the first play of the game, negating a 67-yard run by Bernard Pierce. How you practice for nine days and then make that mental mistake on the first play of the game is beyond me.
Maybe it could have lasted longer if this running team had the gonads to run the ball on a crucial 3d and 1 later on in the game, instead of throwing it.
In one fell swope, Temple lost not only a chance for a MAC championship but a Lambert Trophy.
It would have been nice to have both trophies next to the Mayor's Cup at the E-O.